Root canal treatment is a predictable option to save your tooth, thereby preventing extraction
At Glenville Dental, our professional dentists perform root canal procedures to treat teeth that are severely damaged, decaying or have a serious infection. The root canal is the system in your tooth that extends down from the crown, or the top of the tooth, to the root at the very bottom. This system contains nerves and pulp, which is the soft tissue inside your tooth. A root canal procedure involves removing infected or inflamed pulp from the centre of your tooth, cleaning it out and sealing it to stop the infection and preventing abscesses from forming.
There are several signs or symptoms you may experience that indicate if you need a root canal. These include pain when eating or drinking hot or cold food and drink, discomfort biting or chewing, a loose tooth, swelling of your gums, as well as facial swelling, pus oozing from the infected tooth, and the tooth getting darker. If you are experiencing any of these symptoms you should book in an appointment as soon as possible. These infections cannot be effectively fixed by antibiotics alone, so a root canal or tooth extraction are your only options.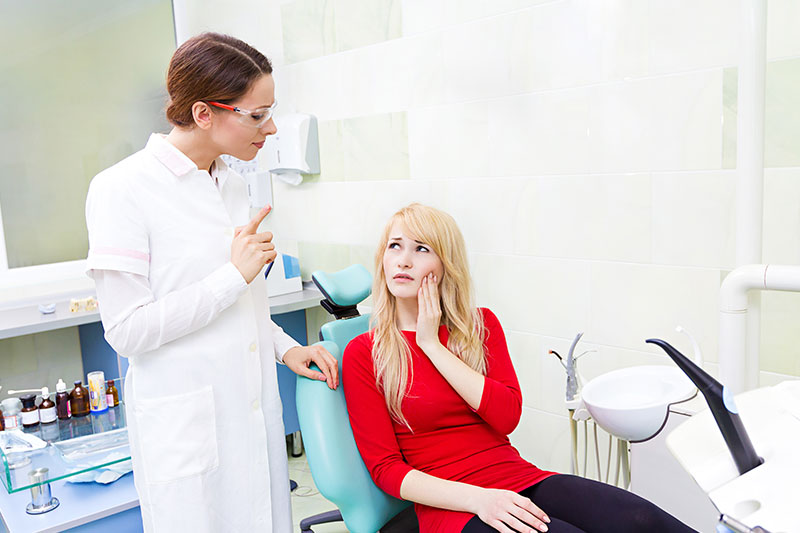 Why Choose Glenville Dental For Root Canal Treatment?
At Glenville Dental, we understand how much pain and discomfort an infected tooth can cause, and how daunting a root canal procedure sounds. Our professional dentists go out of their way to make sure you feel as comfortable as possible.  You can trust that we will perform the root canal procedure with an expert level of care to avoid any complications, and allow your tooth to heal quickly so you can get back to living life as normal. We want to ensure the future of your oral health. We will help stop infections from spreading and promote strong, healthy teeth and gums, through professional dental treatments and ongoing care.
Root Canal Dental Surgeon
''Can't recommend this dental surgery highly enough. The surgery is in a great location. The team are very friendly.I was immediately put at ease and their care and professionalism was excellent.''
Louise Lawton
Couldn't be happier
Very nervous patient who always struggled with dental treatment. After attending Daryll for the first time he changed my outlook on dentistry forever. Treated with such gentleness and professionalism, he communicated everything so well. I would recommend Daryll for anybody due to his kindness and friendliness alone (besides his fantastic work)! Well done!
Ann Honan
Google Review
As I now live on the other side of the city, I thought about changing Dentist however upon consideration the thoroughness of the dental care that myself and my children receive from Glenville Dental Surgery is second to none. They take complete care of us which means I never have to worry that I have overlooked a dental requirement - I have 100% trust that Glenville Dental has it in hand.
Sharon Ryan
Google Review
Despite my anxiety around needles and dentistry Niall was incredibly warm and welcoming even when I became upset. He easily put my fears to rest and my filling was done quickly and professionally. I would recommend wholeheartedly.
Triona Farrell
Google Review
Fantastic crowd! Very professional and very friendly. Made me feel comfortable and relaxed. Quality job well done. Recommend to anyone. Thanks
Ben River Dodder
Google Review
''Modern clinic and friendly experienced staff. Daryll and his team made me feel at ease after a long spell away from a dentist, everything was explained well and options given. I have now a clean bill of health and a good plan to keep it that way.''
Alan Longmore
10/10 perfection
''I had a great experience when I got my implants done recently. The all round general approach was very professional, and the procedure was explained step by step. Thank you Daryll and your team for putting me at ease, and making this an easy experience for me.''
Simon Keogh
So, so happy
''I have been attending Glenville Dental Surgery for many years. I find the treatment to be excellent, and I would happily recommend Glenville Dental Surgery to anyone.''
Kate Allen
In love with my teeth
"Great bunch of people - always make you feel at ease 'cause sometimes going to the dentist makes us anxious. Keep up the good work..."
Linda
October 2016
"As always the service provided by all the staff was very professional. Can't recommend them highly enough."
Bernadette
September 2016
"From the moment I checked in until the time I left I felt well looked after. Niall makes you feel at home all the way though your visit. I couldn't recommend them enough."
Mark
September 2016
"Best dentist in Dublin, brand new surgery and up to date technology and techniques, wouldn't go anywhere else! Everything explained and always put at ease. Highly recommended."
Liz
Happy Out
"I just discovered the practice having read some good reviews online and the visit met all my expectations. Niall has a great manner, making you feel very comfortable in the chair. You trust that he has your best dental care at heart and that only necessary work is recommended."
Killian
Very Happy
"I love your service at the dental practice... everyone is so nice... I am never nervous going to the dentist anymore."
Hendrika
Amazing Experience
"Fantastic team, very welcoming and gentle. If you are reserved about going to the dentist you will definitely be put at ease with Dr. Caitriona Kieran :)"
Ailson
Can't Stop Smiling
"Got an appointment at short notice and found them to be really professional, friendly and thorough. Would highly recommend!"
Patrick
I'll be back
I love this dentist, Eileen is wonderful, she is a miracle worker. She can do anything and do her best. The girls on reception are lovely, there so good and very genuine they will always find an appointment for when needed
Vikki Gill
Facebook Review
Dr Aileen Foley by far the best and most particular dentist I have ever come across. Cannot recommend her enough. She is the BEST n most professional!
Maria Mullane
Facebook Review
The best dentist I've ever had. The whole crew are so lovely. Always excellent service. I always recommend them to friends if they are in need of a dentist.
Marie Noble
Facebook Review
Extremely efficient and the utmost kindness and care, this is the place to go.
Catherine Whooley
Facebook Review
Super friendly, helpful and honest staff. they didn't charge me for emergency check up. great guys!
Omar Elhelw
Facebook Review
Great dental practice and great with kids too, highly recommend.
Louise Boland Delaney
Facebook Review
Best dentist in Dublin, brand new surgery and up to date technology and techniques, wouldn't go anywhere else. Everything explained and always put at ease Highly recommended.
Liz Mulvey
Facebook Review
Benefits of Root Canal Treatment
What Does a Root Canal Procedure Involve?
Root canal procedures are performed under local anaesthetic, so you will feel no discomfort during the treatment. Initially, we will take dental x-rays to get a good view of the tooth, surrounding bone, and cause of the infection.  To prepare the tooth, we will place a thin sheet of rubber on your tooth to keep it dry and clean, and protect it from bacteria that are normally found in mouths.
The root canal procedure then starts with an opening being drilled into the top of your tooth to create access to the pulp. The pulp along with bacteria, the decayed nerve tissue, and debris is cleaned out from the tooth using root canal files. Once everything has been removed, the sides of the root canal are irrigated using water or sodium hypochlorite to flush away the debris. We then fill the root canal with a rubber-like material to seal the tooth and prevent against future infection, and also apply a temporary filling. Some sensitivity after the procedure is normal, and our dentists will sometimes prescribe antibiotics to help aid the healing and stop any more infection spreading. During your follow up visit we will review the tooth to make sure everything is coming along nicely. We will then remove the temporary filling and replace it with a permanent one, or a dental crown to prevent further damage.
Why might you need Root Canal Treatment?
Root Canal treatments are necessary when the pulp in your tooth has become badly infected.  The pulp is the soft tissue inside your tooth which contains nerves, blood vessels and provides nourishment for your tooth. When a tooth's nerve tissue or pulp is damaged, it breaks down and bacteria begins to build up, leading to infection. Infections can be caused by deep cavities, a cracked or fractured tooth, internal injury to the tooth, or repeated dental procedures which disturb the nerve tissue.
Risks of Root Canal Treatment
As with any dental procedure, there are some risks with root canal treatment. Common risks include a mild temporary pain due to the inflamed tissue around the tooth, and your tooth going darker, which can easily be reversed with a whitening procedure.  Some patients may also experience a tooth fracture because of the reduced durability of your tooth during the procedure, and a tooth extraction may be required. This risk is reduced when a dental crown is fitted after the root canal treatment.
5 Pembroke Cottages, Main Street, Dundrum, D14 VK85
Request Root Canal Consultation
Book Your Appointment On
01 298 1133
Get in touch to book your consultation. Make an appointment or call us on 01 298 1133 for more information.