At Glenville Dental our dedicated team of professionals is here to help you
Our team of dentists, hygienists and specialists will provide you with the best dental care in a relaxed and friendly atmosphere
Dr. Daryll Moroney
Dr. Daryll Moroney qualified from Cardiff Dental School in 2001. After a year of vocational training in the UK, he practised as an associate here in Glenville Dental from 2002 - 2007. Daryll then opened up his own practice in Monkstown, and practised there from 2007 - 2016. He then returned to Glenville Dental, and took over the practice from the retiring Dr. O'Leary in 2016, thus becoming only the third owner of Glenville Dental since the 1950s!

Dr. Moroney holds a Master's Degree in implant dentistry from Warwick University, and a Diploma in Clinical Dentistry from Trinity College, Dublin. He has travelled extensively throughout Europe attending courses on aesthetic dentistry and implant dentistry. He is a former chairman of the Dublin Dental Study Club, and committee member of the Metropolitan branch of the Irish Dental Association. He is a current active member of the Irish Academy of Aesthetic Dentistry, and the Irish Dental Association.

When not in Glenville Dental, Daryll spends time chasing his three young children around! He is an accomplished pianist and organist, and is a keen follower of the Irish rugby team. Dr. Moroney enjoys all aspects of dentistry, including providing dental treatments for all the family.
Dr. Aileen Foley
Dr. Aileen Foley joined Glenville Dental in January 2017 and focuses on providing a high standard of clinical care to her patients in friendly and comfortable surroundings. She is happy to take the time to explain and plan various treatment options for each patient.

Dr. Foley graduated with honours from University College Cork. She spent four years working in general practice in London. Aileen completed her foundation training in the UK, where she was awarded a prize by the Kent Deanery for her clinical case presentation. While working in London she completed a Diploma in Primary Dental Care. Aileen was awarded distinction for both her root canal clinical case and overall Diploma. While working in Notting Hill, London she gained experience in cosmetic dentistry. She has a special interest in Invisalign and cosmetic bonding.

Aileen is committed to continuous professional development in order to provide the highest level of treatment to her patients. Having successfully completed her membership exams at the Royal College of Surgeons of England she is now a member of the Faculty of Dental Surgery (FDS) and the Faculty of General Dental Practice (FGDP(UK)). She has completed a Prosthodontic Implant course in the Eastman Institute, London. Aileen is currently undertaking a Diploma in Clear Aligner Orthodontics in the City of London Dental School.
Dr. Esselina Vassileva
Dr. Esselina Vassileva received her Dental Degree from the Medical University of Sofia, Bulgaria in 2003, where she opened her own practice. Her strong interest in orthodontics inspired her to start working with children and removable appliances. In 2009, she was introduced to the world of fixed appliances and the Alexander Discipline. She was taught by Dr.R.G."Wick" Alexander, one of the leading professors in orthodontics. She loves to attend courses to ensure that she can offer the latest technology to her patients, and keep up to date with everything new and exciting in the world of dentistry. At the beginning of 2014 she moved to Dublin. Soon after she commenced a Masters of Science Degree at the University of London (BPP) in Orthodontics and Dentofacial Orthopaedics. She is a member of the Irish Dental Association, Bulgarian Dental Association and Alexander's Discipline Study Club. In her free time she likes outdoor activities, yoga and travelling. Recently, she discovered that swimming in the Irish Sea could be quite energizing.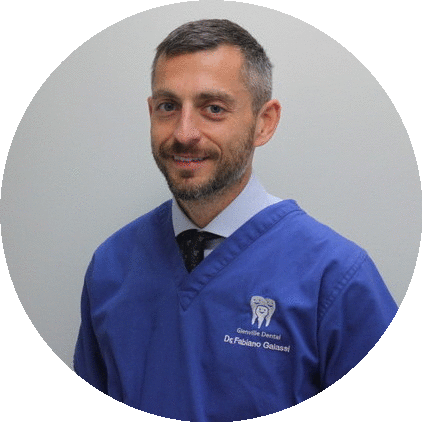 Dr. Fabiano Galassi
D.D.S., M.Sc. (ACTA) Periodontology and Implant Dentistry. Practice limited to periodontology and implant dentistry. Dr. Galassi received his Dental Degree from the University of Rome "LA SAPIENZA", in Italy. After two years in general practice, he moved to Dublin where he continued working as a general practitioner until 2008. Dr. Galassi then continued his education and followed the MSc program in Periodontology and Implant Dentistry at the Academic Center for Dentistry in Amsterdam (ACTA), in The Netherlands from 2008 to 2011, and graduated with honours. Dr. Galassi is greatly interested in research questions relating to the susceptibility of periodontal diseases and microbiological tests as a primary means to establish the risk of periodontal diseases and peri-implantitis. He has published in peer-reviewed journals and written some chapters for textbooks in periodontology. Dr. Galassi is a member of the European Federation of Periodontology (EFP) and the Italian Federation of Periodontology (SIdP). His focus is on the treatment of periodontal disease, bone regeneration, cosmetic periodontal plastic surgery and implant dentistry.
Our State of The Art Facilities
Our experienced dentists and hygienist are all highly qualified in their respective fields and committed to ongoing postgraduate training. We pride ourselves on providing excellent treatment in a relaxed and modern setting! We provide early morning, lunchtime and evening appointments. Emergency appointments are also available on request. We also provide an appointment reminder service via text/email.  Glenville Dental is located on the Main Street in Dundrum across from the Church. See our tooth-shaped sign outside! We are 300m from the Dundrum Luas stop. On-street parking is available in front of the practice on the Main Street, and also across the road in the shopping centre. There is also a bike rack directly outside our front door.
Book Your Appointment 01 298 1133
Get in touch to book your consultation. Make an appointment or call us on 01 298 1133 for more information.